Wednesday, February 24, 2016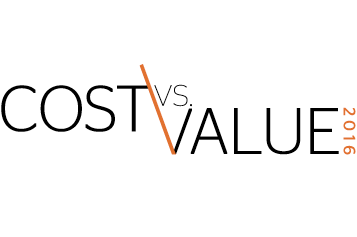 The 2016 Cost vs Value Report shows that home improvement projects relating to curb appeal and energy efficiency had the highest rate of return.
The report compares the average cost of 30 popular remodeling projects against the value of those projects at resale in 100 US markets. The average cost and average return at resale for the 30 projects in this year's report resulted in an average of 64.4% of a project's investment dollars getting recouped if the home is sold within a year. That's up from 62% in the 2015 report and the second-highest return in the past eight years.
Many of the biggest percentage gains were for higher-dollar upscale projects (jobs that are more expansive and complicated than midrange projects). Four of the top five gains in cost recouped were for upscale projects. Topping the list was:
fiberglass entry door (energy efficiency project) up 21.2%

two-story addition, an 8.1% higher recoupment than in the 2015 report

the master suite, up 6.5% and

major kitchen remodel, 4.2% higher
The report is broken down into national results and then regionally. Click here for the full 2016 Cost vs. Value Report and here to view the data specifically for the Philadelphia region.
Courtesy of Chester County PA Realtor Scott Darling.