Going on a Stay-Cation!
Wednesday, August 7, 2019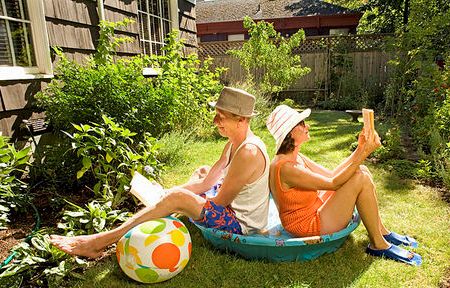 So, you need to use your vacation days, but the kids are taking part in activities all Summer, gas prices have you down, or the cost is simply not in the budget. Why not plan a stay-at-home vacation? You may not live in a tourist destination town, but you can still take a week off work so you can enjoy some warm weather down time:
- If you are truly wanting an away from home experience, book a room in a local hotel for a few days during the week when rates are lower. A luxury hotel or bed and breakfast would make it feel more like a vacation, if you can afford it.

- Exploring your local area can not only be fun, but educational for the family! Before your time off, call your local tourism office, and learn about the destinations you're not aware of, as well as those you do. Make a list and decide where you'd like to visit.
- The weekend before your break, get everyone involved in getting the house cleaned up and the laundry done. Purchase eco-friendly disposable kitchen items, so you don't have dishes to do every night, or plan budget-friendly take out.

- When you have young children, planning day trips is less difficult on them; spending the day at a nearby museum or state park, then coming home to sleep in their own beds can help keep them in their routine when your time off is over.
- Imagine yourself as a guest in your own home and treat yourself as such. Vacations are meant to break routines, and you might have to make a conscious effort to stay in a getaway state of mind.
- Spend an entire day at your local park, splash pad, or other fun spot that you normally take advantage of for an hour or so. Pack a picnic lunch.

- Plan some out-of-the-ordinary things to do at home. "Camp out" in the living room, or even the backyard! Throw yourselves an ice cream party, or some other celebration that is normally reserved for birthdays and holidays.

- Some projects, such as cleaning out the garage, can take a couple of days. If you must do something, plan as many days of fun or relaxing as you spend working.
Most importantly, unplug yourself! Turn off notifications for all your smartphone apps, resolve to check personal email every other day, and let family and friends know you're taking time off, and, unless you're planning on a get-together, only available for emergencies. Vacation days are a precious commodity, and if you're not taking a long-distance trip, make the most of it, and make memories in the process.

Courtesy of Chester County PA Realtor Scott Darling.
Photo credit: naturallynourishing.com