Get Your Home in a Good Mood!
Wednesday, September 4, 2019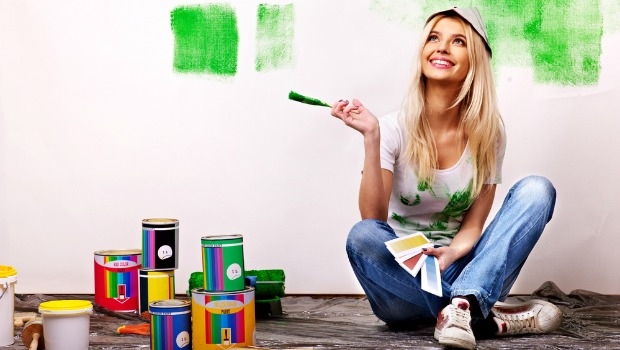 Hopefully, walking in the door of your home after a long day at work starts turning off the stressors of the day so you can recharge for the next. If there is anything about your house that doesn't give you a good feeling, it may be time for some redecorating! Here are 6 things you can do to create a comfortable atmosphere at home:
- An unkempt yard or dirty, cluttered home can keep us feeling stressed and overwhelmed. Once a room is cleaned, and piles of mail or schoolwork is organized, try to keep it that way. If yard work is getting you down, find an affordable landscaping company or neighbor to get the grass mowed, leaves raked, or flower beds weeded.


- You may not have had time to paint or do small redecorating projects when first purchased the house, and that outdated wallpaper or color is bringing you down. Color influences us, so when you are dreaming of Tiffany blue dining room walls, but yours are hunter green, take a weekend to get it done!


- Light is so important to how we feel! Keep shades and blinds open to allow sunlight to shine in, and that's free! Spending a little to improve poor lighting in a room with lamps, sconces and brighter bulbs is a mood-booster, as we are naturally drawn to light. Add inexpensive battery-operated LED lighting to the underside of kitchen cabinetry, bookshelves and china cabinets.

- According to Healthline, plants can boost our mood and provide many other benefits! Where real plants aren't practical, faux greenery will do, and it never needs watering.


- One thing that can cause issues is keeping something on display that isn't everyone's favorite. If there's anything in a room that gives anyone a bad feeling or brings up memories they'd rather forget, remove it.


- Aromatherapy is certainly a current trend, but scents do affect us in many ways. There are so many ways to add a pleasant aroma to your home, so choose the most convenient method, along with a couple of different scents you love, and use them. When you get used to smelling one, change it out with another.
Finally, and most importantly, decorate with items you love. Home shouldn't be making you feel stressed, so hanging a piece of art that was a bargain, but you never really liked, isn't a good bargain. Walking into your home filled with things that bring you joy or peace--well, there's no substitute.
Courtesy of Chester County PA Realtor Scott Darling.
Photo credit: livehappy.com