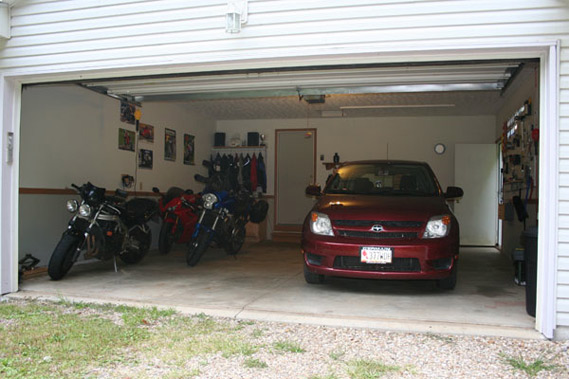 Do you actually park your car in the garage? A 2015 survey from PRN News found that only 1 in 4 Americans keep their car in the garage when they're at home! The rest use it for storage, extra workspace, and, sometimes, junk. Spend some extra time and a little money to get organized and get more use from this large space!
- Hang folding outdoor chairs from wall hooks or strong nails to get them out of the way. Plastic chairs can be stacked and placed in a corner.
- Create off-the-floor storage space by adding shelves, and put lightweight items in clear plastic storage totes, and place them on the shelves.
- Have the kids' sports balls taken over the floor? Use bungee cords to get them out of the way!
- Use plastic window planter inserts for storage, mounting them on a wall with a washer/bolt combination for strength. Store smaller miscellaneous items in the planters--gardening hand tools, spray paint cans, or paint brushes.
- If your garage has visible studs, use that space to hang items by placing a tension rod in between the studs. Hang spray bottles by their nozzles, add hooks to store garden tools, or attach small plastic baskets with shower curtain hooks for storing small items.
- A worktable can take up a lot of space if you're not using it all the time, so creating a fold-away table is perfect for the hobbyist. Crafted Workshop shows us how to build one for about $35.
- An unused filing cabinet can be turned into garden tool storage by removing the drawers, standing the cabinet on its back, and use the empty drawer spaces to stand tools in.
- Toy bins with rope handles are sturdy enough to store garden hoses, extension cords, and actual outdoor toys, and the bins can hang via their rope handles on large nails or hangers.
- Wood pallets can be put to so many uses, and the garage is no exception. Attach them to the walls, add nails or hooks and hang items, or create shelving with them.
- Keep small hardware and machine parts handy in jars with screw-on lids. Make them even more convenient by attaching them to the undersides of shelving! Instructables shows you how to DIY this project.
Home centers have units and other materials to create hanging storage on the ceiling, as well as storage cabinets for things that need to be locked up or out of the kids' reach. However, you choose to tidy up your space, your hard work will pay off because you just might end up with room to park the car!
Courtesy of Chester County PA Realtor Scott Darling.
Photo credit: garagejournal.com