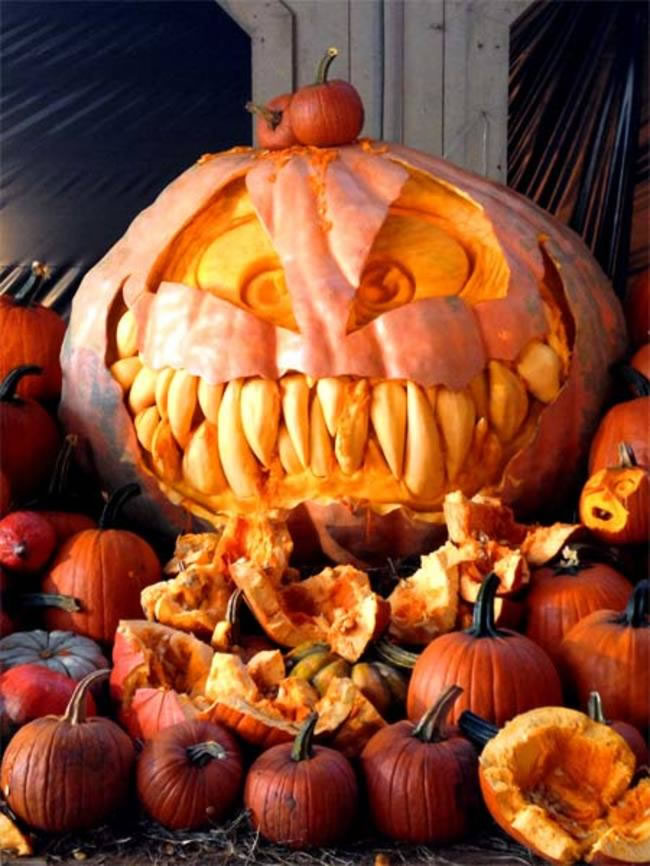 Gone are the days of using Mom's best kitchen knife to carve a simple jack o' lantern with triangle-shaped eyes and a toothy grin. Pumpkin carving is an art for many, but even those who aren't so talented in that department can create original and fun lanterns to light our front steps for Halloween!
- Cleaning out the pumpkin is messy, and best done on a paper-covered table or done outside. Once the inside is clean of seeds and pulp, use a spray bleach cleaner such as Clorox Clean Up to spray the inside of the pumpkin to help stop it from molding quickly.


- Pumpkin carving kits can be bought for just a few dollars, and they usually contain a utility saw, hand "drill," and scraper. Some kits offer templates to choose from.

- The amount of free printable templates are almost overwhelming, and you'll probably end up with more than one jack o' lantern if you go through this list of available templates from The Spruce Crafts!
- Find a template that compliments your skills, or find an easy one that children can help with, and print. Tape it to your cleaned-out pumpkin, and use a pointy object to trace around the line drawing, poking through the paper and into the pumpkin. Cut the pattern using a small saw, and spray the newly cut areas with the bleach cleaner, and your piece of art should last for several days!

- Metal cookie cutters can also be used for a different look for your pumpkins: using a mallet, gently tap the cookie cutter through the carved pumpkin shell. Go around the pumpkin using this method, or place the cutter in random places for a less-structured look.

- A power drill can make creating a pumpkin lantern a breeze! Use different bit sizes to make your pumpkin sparkle, like these from onelittleproject.com.

- For the more advanced pumpkin artist, grab a linoleum cutter at your local home center, and follow these directions from FromChinaVillage.com for a different approach to "carving."

- Battery-operated tea lights are perfect for lighting your jack o' lantern, and last for several hours, as well as being safer than a traditional candle. Once you purchase an inexpensive pack, replace the batteries when the old ones die, as the LED bulbs inside last much longer than any wax tealight candle.
- For more festive and different approaches to decorating your porch with other members of the squash and vegetable family, check out these ideas from The Garden Glove.
Keep the pumpkin-carving safe: supervise younger children, and even help them when they want to use tools to cut the pumpkin's new face. Most children love cleaning out the "guts" of the pumpkin, so have them pick out some seeds for cleaning and roasting later for a healthy treat. Most of all, have fun, and make memories!
Courtesy of Chester County PA Realtor Scott Darling.
Photo credit: dailynewsdig.com